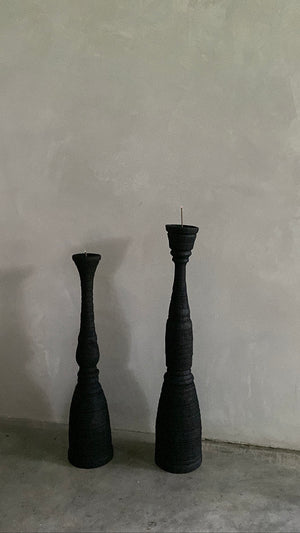 Incense towers by RELIC FORM
Sale price Price $269.00 Regular price Unit price / per
Tax included.
Shipping
calculated at checkout.
The first of their kind, traditionally carved, wooden incense towers by RELIC FORM
Stong Earth/Air presence
Fits small / medium diameter hand made incense - shop incense here!
MEDIUM - (H) 44CM X 9.5 (D)
LARGE - (H) 50CM X 10.5 (D)
FORGED WOOD

STRINGYBARK MESSMATE (Eucalyptus Obliqua)
RELIC FORM x AYUPOTHECA 
It is with great honour to be showcasing these sacred works by RELIC FORM, in our healing space. Working with the element of fire (agni) to transform trees, we feel Thom's work represents the raw depiction of Mother Nature and her waves of endless transformation. May these pieces serve as poetic reminders in your home of the endless transformations we too undergo, in this life; surrender, expand the heart, let go, transform & transmute suffering
ARTIST PREFACE:

A series of ornamental vessels and functional holders carved from sustainably foraged timber. Each piece has been carved, textured and preserved by exploring the old world Japanese 'Yakisugi' wood preservation method.
Motivated by ancient architecture, old world craft forms and the natural landscapes that hold them. A present day interpretation of their presence still felt today. Each piece has been undergone the preservation method
multiple times to ensure the quality.
Dimensionality, resilience and balance is carefully designed into
each piece, creating wood arts forms that will last an age.
All pieces are water-resistant, rot resistant and fire resistant.
Each holds an energetic presence stimulating
the senses through sight, touch, and scent.
Maker & Creator - Thom Moutafis

Thom explores wood art forms through interacting with the cycles of connection between material and maker. A conversation with the natural world, spoken by the wood and expressed by the soul.
Through years of research and dedication, countless trials and errors, he continues to develop his own style. Working with ancient preservation techniques and integrating them with contemporary designs.
Thom's creative journey reflects his ever-evolving perspective of the current internal and external landscapes while embedding this into one-off wood art forms.
Carefully selecting each piece of wood by engaging in the initial dialogue with the tree's organic make up, a co-created exchange; through carving with intention, flow and deep listening.